Minecraft: Story Mode - New Trailer, Additional Cast Details, AND World Premiere Event
puzzlebox
Telltale Alumni
Today we can announce that Telltale Games and Mojang are holding a special WORLD PREMIERE launch event for Minecraft: Story Mode in Hollywood, CA on October 12th at the ArcLight Cinerama Dome! The Minecraft community and Telltale fans are invited to join in on the 'World's Largest Let's Play' as the audience cheers and directs the action on the big screen. Tickets to the event will be at no cost. If you'd like to attend, just email minecraftpremiere[at]telltalegames[dot]com for more information. Seating will be limited and tickets will be offered in advance on a first come first served basis, so don't delay! This is your chance to participate in a very special event ahead of the public digital launch on October 13th (retail season pass discs hit stores starting October 27th).






We also have a brand-new trailer for the season premiere right here. This one gives you a little more info on the members of the Order of the Stone, four heroes you can expect to be QUITE significant in this adventure...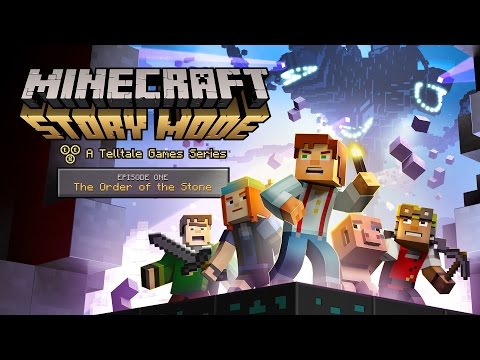 Did you miss the very first pieces of info on the series? No worries, we can fill you in. In Minecraft: Story Mode, playing as either a male or female hero named 'Jesse,' you'll embark on a perilous adventure across the Overworld, through the Nether, to the End, and beyond. You and your friends revere the legendary Order of the Stone: Warrior, Redstone Engineer, Griefer, and Architect; slayers of the Ender Dragon. While at EnderCon in hopes of meeting Gabriel the Warrior, Jesse's friends discover that something is wrong... something dreadful. Terror is unleashed, and you must set out on a quest to find The Order of the Stone if you are to save your world from oblivion.
Today we can also announce some entirely new cast details (and re-confirm a couple we've already mentioned)! If you've been keeping up with the news so far, you'll already know the season will feature Patton Oswalt as male Jesse and Catherine Taber as female Jesse. You'll also hear Brian Posehn as Axel, Ashley Johnson as Petra, Scott Porter as Lukas, Martha Plimpton as Olivia, Billy West as the narrator, and Paul Reubens as Ivor. Also announced today, in the role of the four 'Order of the Stone' members, we have Dave Fennoy as Gabriel the Warrior, Corey Feldman as Magnus the Griefer, Grey Griffin as Ellegaard the Redstone Engineer, and John Hodgman as Soren the Architect. In short, that's a pantheon of talent we're simply BEYOND excited to be working with.
With all that said, it's not ALL about Minecraft behind the scenes here... those eagerly awaiting the season finales for Tales from the Borderlands and Game of Thrones can expect some big news drops hot on the heels of the Minecraft: Story Mode premiere. The next few weeks mark an incredibly busy time for Telltale!
This discussion has been closed.