I have this thread on my other 'home' forum, and figure it could work well here too.
Living on the edge of a large section of
native forest reserve
means I get some pretty cool bugs & birds visiting the yard. So I'd like to present a
"Look what I found in my yard today"
thread where hopefully you might learn a little about New Zealand fauna as you check out what I have photographed.
Everyone else is encouraged to contribute with photos of wild animals from their own yards, of course, but I do ask that you provide actual photos you have taken (don't have to be good quality), not just links to other's photos of the same animal found on the internet. But you can provide links to wikipedia or whatever so people can find out more about the animals you're presenting (and see better photos!).
Try and size your photos down to 'forum-width friendly' too, if you can.
Without further ado, here's my first creature;
Cave Weta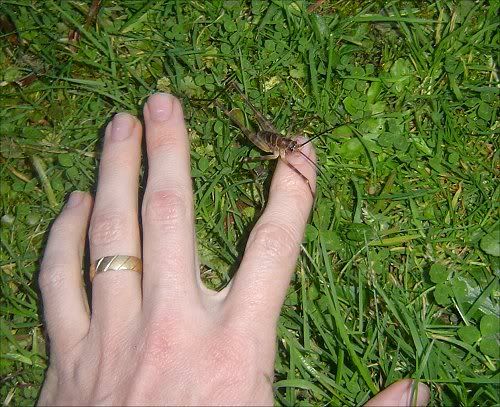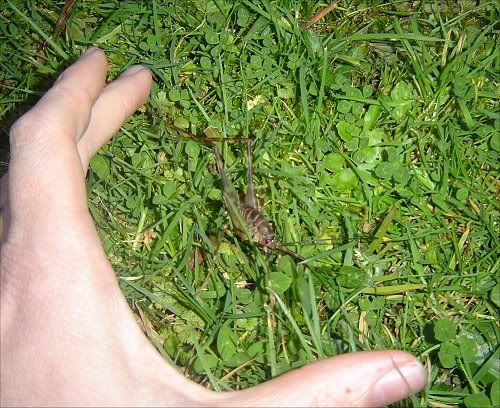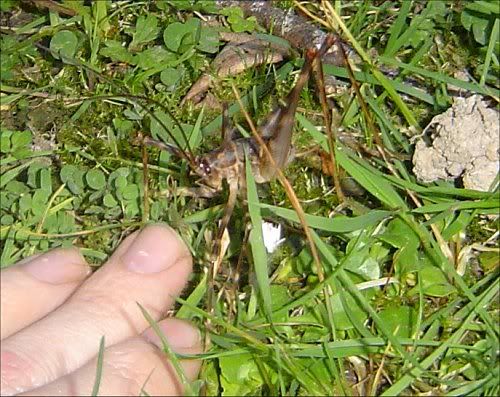 Wetas are a primitive cricket. There are several distinct species (yes, that's what Peter Jackson named his FX company after - an in-joke can be seen in the King Kong trailer when a swarm of giant Weta attack Jack Black's character). The
Cave Weta
has huge spindly legs and long antenna and can jump a couple of metres at a time. This one would be about 20-25cm long if its legs were fully stretched out including antennae). They are harmless, though because of their size and ability to jump so high, they do frighten people.
One of the cats brought this guy in, but I rescued it before any damage was done. And even though they're more common in caves, they live in all sorts of dark secluded areas.
And as this is the opening post, here's a couple more...
Here is a lovely
Tree Weta
in our courtyard which, while similar looking to the Cave Weta above is actually from a different order altogether. The kids found it in their playhouse last week. They're a primitive cricket, and in the shot on the planter box he's trying to scare us away by raising his hind legs and splaying his jaws & waving his antenna around wildly. Mighty impressive. The head-to-body length which you can see better in the picture in he tree is about 7cm. A pretty good specimen all round.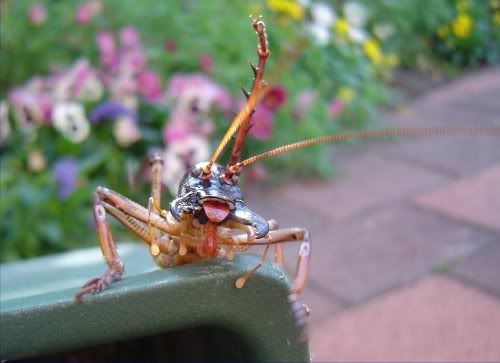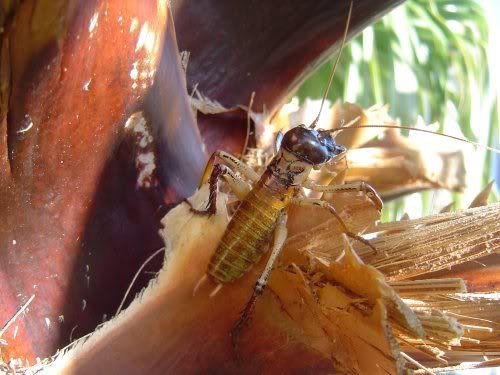 This
hedgehog
had fallen down a drain in our path. So I put on a glove & pulled him out. He was a decent size too. Goodness knows how long he was stuck down there, but considering the rain we'd had, I'd say probably less than 2 days.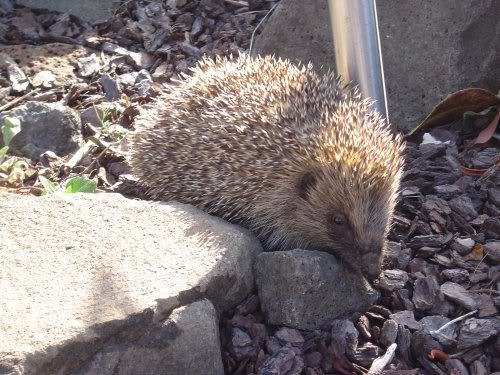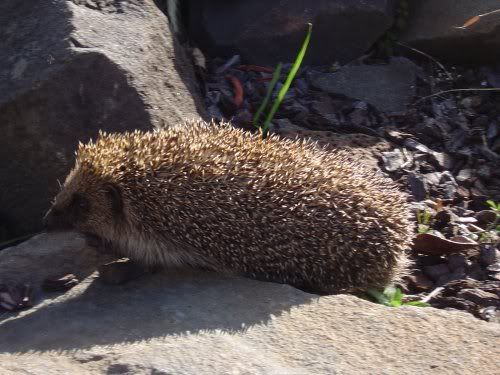 Hedgehogs were introduced to NZ by european settlers. They're a bit of a pest, raiding the nests of our numerous ground-dwelling birds etc, but you don't see them too often. And they are kinda cute.
OK, now show me yours!