Hello,
I've got a problem with the "BTTF" launcher.
It is just black, and I cannot click anything except Facebook and Help links — they work as they're supposed to, opening new tabs in my browser.
Here's the configuration of my computer:
Windows Vista Home Premium
NVidia GeForce 8600M GS
DirectX 10
I tried to download and install all the updates for Windows and the graphic card, I tried to reinstall the game several times and running it on another PC (with the same OS), tried to run it with administrator rights. It didn't help though...
I fact, I had problems with the "Puzzle Agent" launcher as well — it had no images, but at least I could click their frames and run the game. As for BTTF, nothing in the launcher is clickable. Here's how the two launchers look:
http://i3.photobucket.com/albums/y59/Eno_Hlaalu/Shots/Back_to_the_Future_Launcher.jpg
"]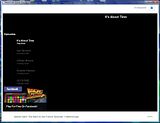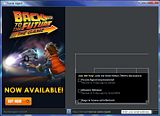 Can anyone please tell me what could possibly be the problem?
Could it be some codec perhaps?