I went and bought the entire Sam & Max collection on Steam, back when it was on a midweek madness sale last month. I couldn't download them right away because of my bandwidth limit, until just recently when I downloaded them all so I could play through them. However, there seems to be a problem.
Upon starting any of the Sam & Max: Season 1 episodes ("Culture Shock", "Situation: Comedy", "The Mole, the Mob, and the Meatball", "Abe Lincoln Must Die!", "Reality 2.0", and "Bright Side of the Moon") on my Windows XP-based computer, I am greeted with the game crashing on me, with the following messages: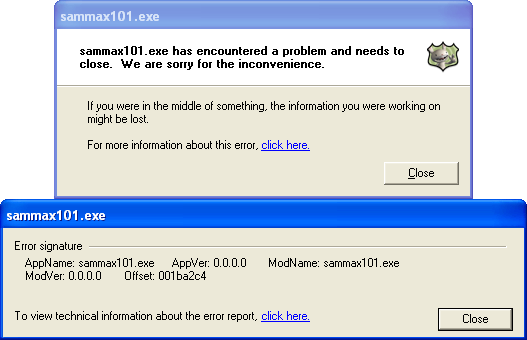 None of the 2nd or 3rd season episodes crash on me, and I've tried the 1st season episodes on my brother's computer, and my father's laptop, and it gives me the same errors. I believe this is a problem with the Steam version, as I was able to play the free version of "Abe Lincoln Must Die!" without any problems, and (please don't think about me negatively for this) I was even able to substitute "alternative" EXE files for my Sam & Max games, and then they work just fine through Steam.
However, I don't want to resort to using illegitimate files just to get 'em working. Telltale Games, please fix whatever problem's causing the first season's episodes to not work with the Steam version.