"These lips are sealed"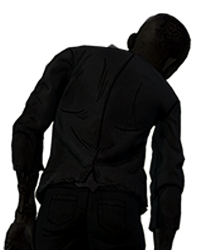 fusedmass
Banned
I been thinking about this for a bit. When you saved Faith. She said the exact phrase "These lips are sealed" when you asked her who she was working for. She had been pretty open about everything else.
Then
In the mirror, when you ask to show Faith, not only can he not show you faith. He repeats the Phrase exactly as she said it. "These lips are sealed"
Given the next episode is about magic. Could it be a binding spell that prevents them from discussing it. One thing for Faith Say it, but the mirror in exactly same wording.
Also, I don't believe she's dead. If she was in the mirror would shown you her. I think it's an illusion. What do you think?
Also I check tell tale twitter earlier today.
Why is @DaveFennoy in the studio with #TheWolfAmongUs production team? Find out soon in Episode Two: Smoke & Mirrors! pic.twitter.com/Uzc4cJwDc5
I believe Dave is the person who voiced Lee not sure. I'm convinced the suspect is her pimp though. Given the information. I wish I could figure out which fable he was.
Sign in
to comment in this discussion.