Why Episode 2 Was So Disappointing
I watched the delay drama unfold and remained silent, but after playing episode 2 I just want to lay out all the things that were disappointing.
1) The Delay. Not only was it irritating itself, but having to wait so long created anticipation that probably could never be met. Plus people forgot what happened in the first episode. Also, when people were bitching about telltale not saying anything I'm surprised no one chimed in that Telltale thinks "Silence is a valid option".
2) Too short. If the content had been better this would be less of an issue. Mediocre and short don't work. Telltale, listen to all those people bitching on the internet... lots of people notice and don't appreciate the shorter episodes of TWAU and TWD.
3) No real choices. Tear up the bar or not, let snow come with you or not, hit beast or not, make a run on sentence or not. These choices were boring and I like things not boring. Someone died last episode and you had to choose someone to arrest.
4) Kinda boring. The first episode was brilliant. It was far better than TWD. What happened this time? Instead of the story blasting along in a hover Ferrari it just kinda fell out. Pointless action is boring, but so is nothing really happening.
5) Whats with all the changes? No throwing crane over the wishing well? No alley fight with beast? No alley chat with Georgie? No chairs being violently knocked over? Seriously, what happened to that chair? This episode doesn't explain what happened to the chair at all. No telling Holly about a serial killer while she's outside. No magic mirror. No wolf in beast form. Go and look at the old episode 2 preview- EVERY SCENE IS NOT IN THE FINAL PRODUCT. Now you can say that some of these are going to be in later episodes, but why would they show nothing from the next episode at all? The drama behind why and what was changed is more interesting than this episode and I hope it will come out one day.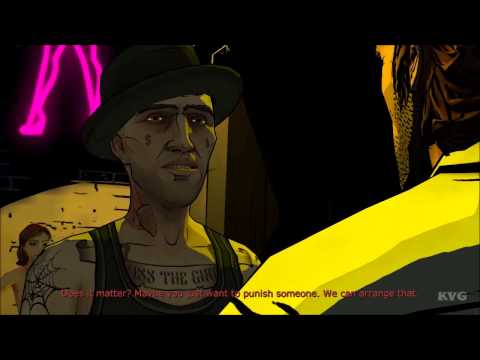 6) Voice Acting. Georgie's new voice is horrid. The preview voice was much better. This new one is distracting. I know Telltale likes to use the same cadre of VAs, but Lee and clementine are distracting as Bluebeard and TJ. They're not bad, just recognizable from TWD and that breaks immersion.
7) You can't figure out who the killer is. This is the problem with taking feedback and incorporating it into the game- it means there is no cohesive story. There is no mystery to solve with clues peppered in. I like mysteries and solving problems, but only if problems are solvable. Maybe it was Ginger Boy before that video came out? Who knows? The point is this isn't a mystery novel with a way to logically figure out who did it and should not be billed as such.
8) Fewer Dialog trees. Doing another playthrough as bad/silent/good in episode one added a lot to the story. In this episode it didn't. This entire thing felt like a hurried re-write.
9) Lack of exploring. Not really anything to explore except hearing people mating in a hotel room and seeing a clock radio. Exciting.
Sign in
to comment in this discussion.