__________'s Sanity faltering?
Hey guys, I've been viewing a bunch of discussions and theories for a while now, so I decided I'd join this community.
Obvious spoilers in this thread, so read at your own risk. And yes this is going to be a very long read, so bare with me.
So I have a theory for you guys, and I want your opinions on it. I'm a big fan of the soundtracks in TWD & TWAU, and I was catching up with the new season's tracks; While doing so I discovered a pattern in the episode slides. The songs will be linked to the "Episode #:" And I'll be including the youtube links to the songs listed here for reference, besides the 1st slide. (All uploaded by MikonReborn!)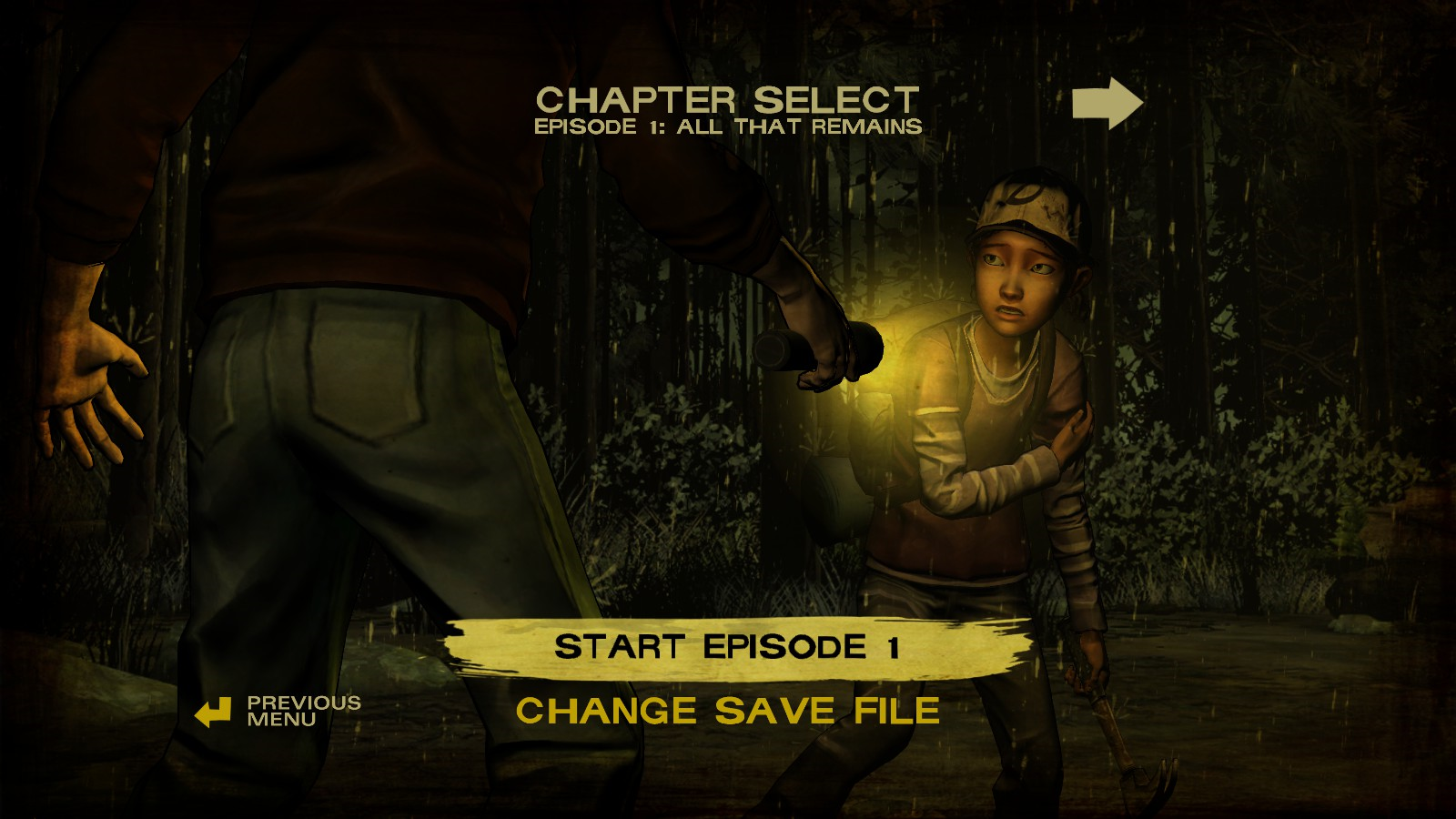 Episode 1 doesn't really have much symbolism behind it, and the ambiance is simple rain, although in the update it looks like they added the non-violin version of Clementine's Theme/Last Moments (Can't remember) as a way to signify the feeling of loneliness that Clementine felt after losing Christa and Omid.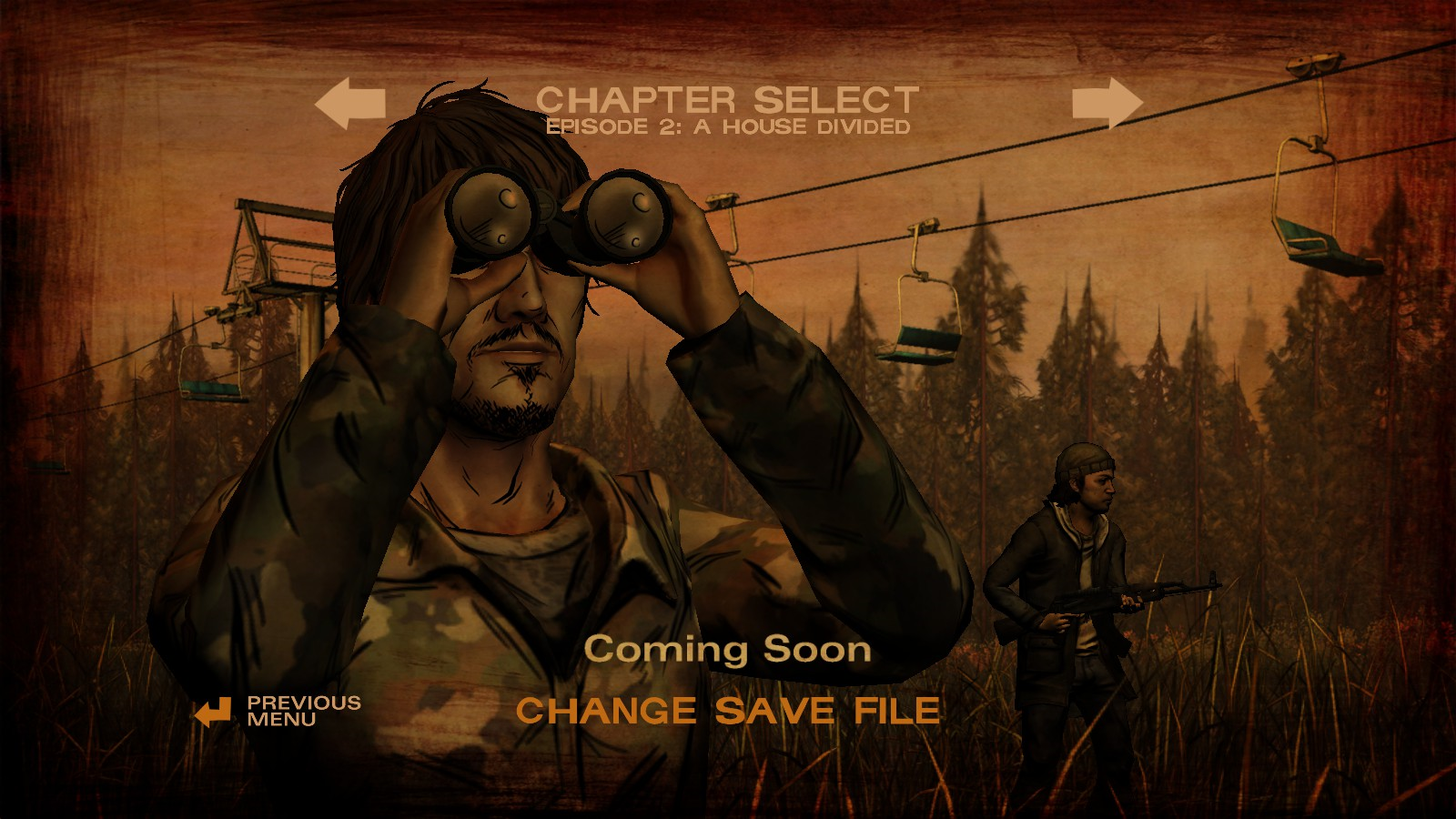 Episode 2 is also pretty simple, but this is where one of my ideas comes into play. The ambiance is a looped drum-like/tribal instrument with a low hum and an occasional soft breeze. The picture of the scouts of (what we know now to be) Carver's group adds a feeling of vulnerability and tension.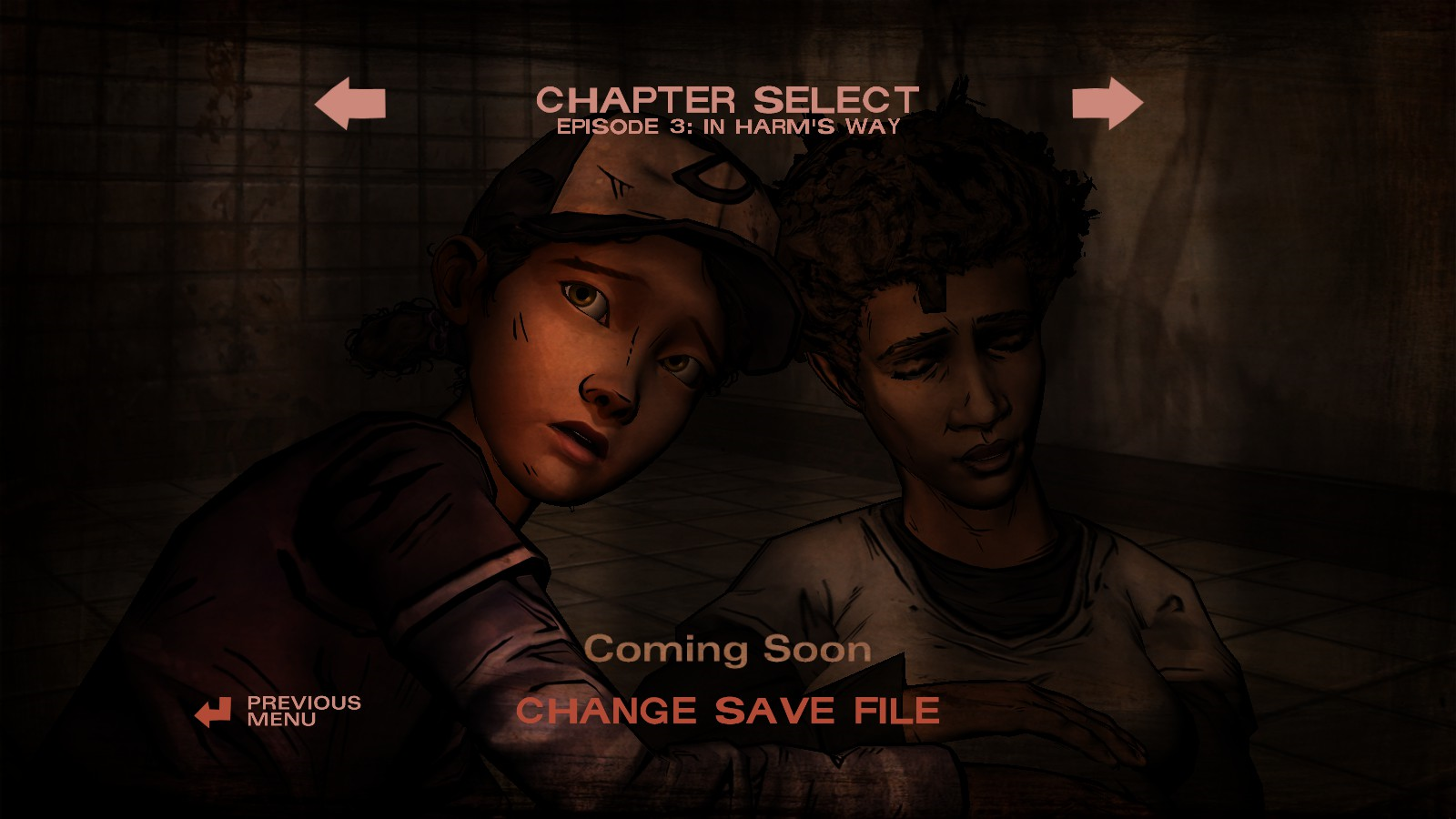 Episode 3 is where, after discovering the future of Clem's group, I started to notice. This slide shows Clem and Rebecca in what seems to be a holding cell, shown by the transparent bars; Although it could also represent the "feeling" of being "trapped", but that's anyone's guess. I think it's just a temporary holding cell. Anyways, the music is what sets the tone. There's a buzz-saw in the background with a ominous rattling and heavy and distorted wind effects. I think this particular slide is also especially important. Picture Clementine, trapped in an unknown location, forced to do labor for people she doesn't know, with a group she barely knows, and also worrying about a soon to be pregnant lady. Imagine what's going through her head, a lot of stress for an 11 year old girl. To her all this but be building up inside of her, with the "ringing" buzz-saw noise representing her numbness to this constant mental abuse.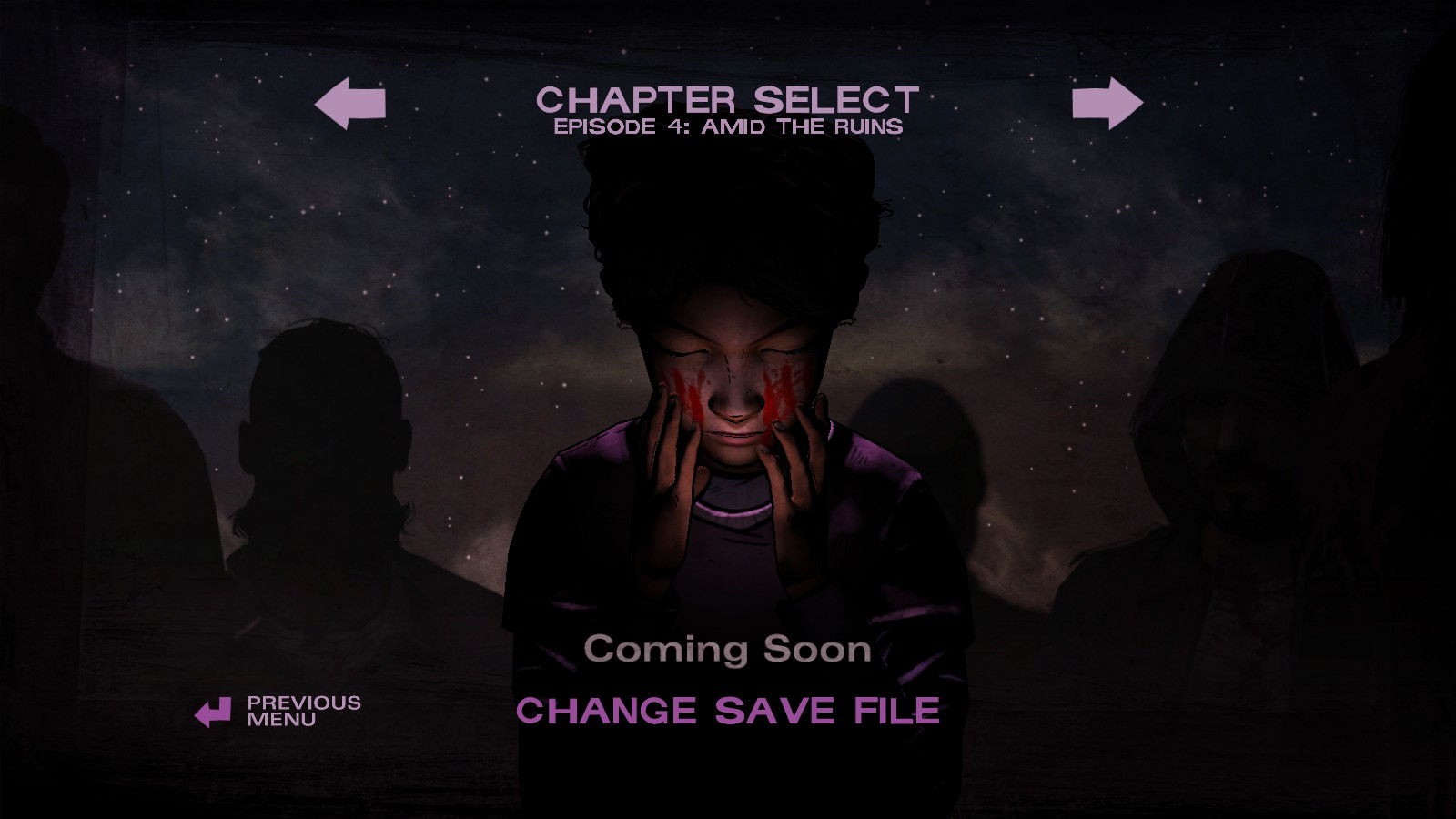 Episode 4 is where things get slightly more hazy, considering we don't know what happens in EP3 that leads up to EP4. But one thing is clear: Clementine is not the same girl she was in Episode 2. Carver is an evil man, with the intelligence to look out after his group, but in a morally horrid way. There are theories backing up when I say that somehow Clementine lost a lot of her innocence in that camp. Also, Clem is putting blood on her face in a war-paint type manner. The music also helps bring this out, the heavy and ominous horns, that sound like a darker battle horn. The music and the war-paint gives me a feeling that Clem lost all compassion, or at least is numbed down and can only think about extracting revenge; Revenge for maybe, what Carver did to her, or to her group members.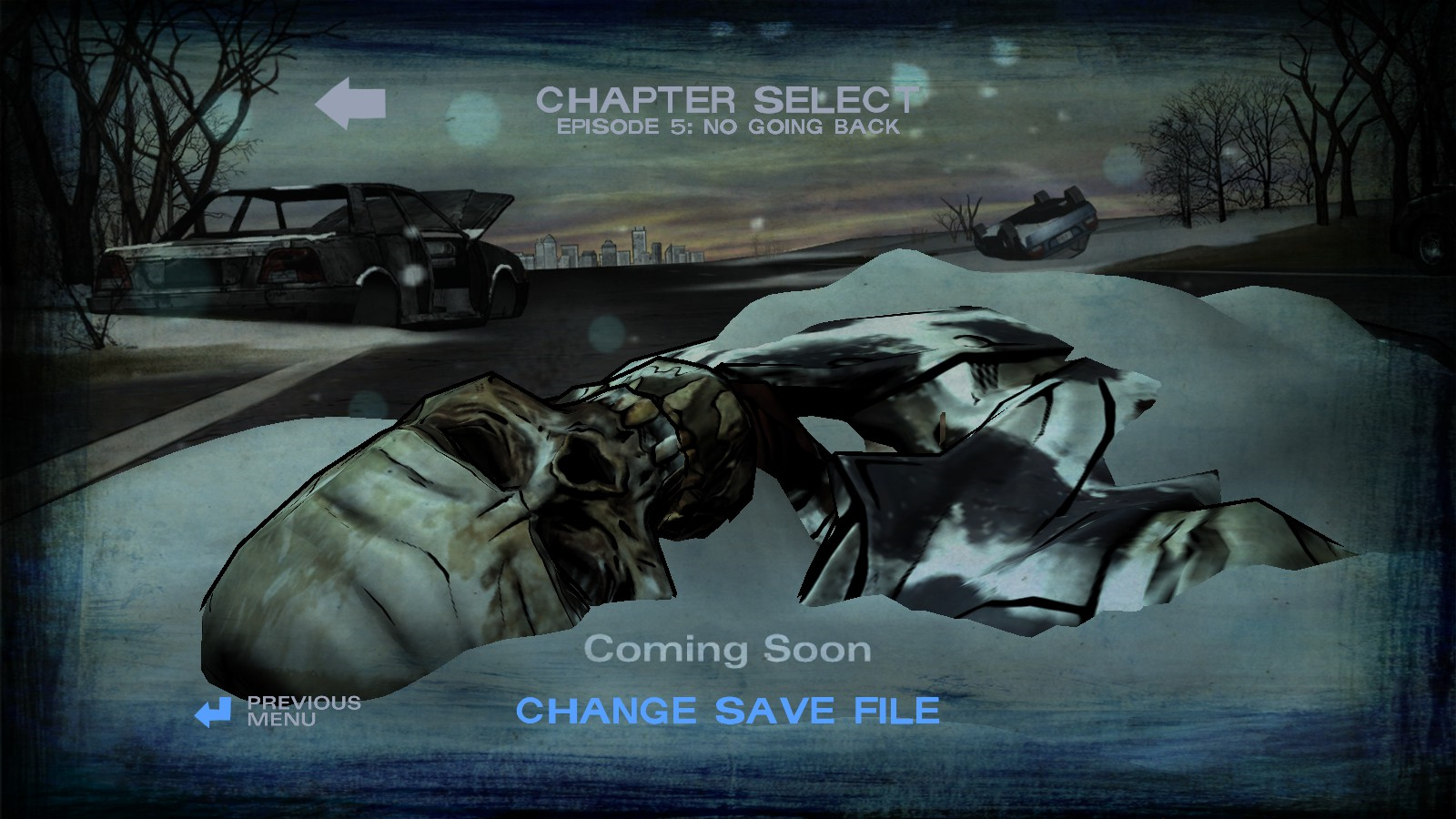 Episode 5 has a track that doesn't appear in the Slide selection, and it's important, because this one is creepy. I'd also like to take a moment to explain something. Since Episode 2 came out, they've made it so whichever episode you JUST completed on that certain save file will appear as your main menu along with an OST. For Episode 2 this Soundtrack was different than the Slide OST. The Slide for EP5 didn't have music at all, only a snowy breeze. So, if the songs are meant to appear after you've completed an episode, then that means it's a sort of "lasting impression" of what just happened. Then it could very well be the song we hear as we're tossed back to the main menu, shocked at the ending. This song is definitely the most haunting and uncomfortable of all the episode selects. And I have an idea, this could symbolize the "ghosts" or "whispers" of death around her, including the bloodshed of Episode 4. After Clem experienced death and a possible dead baby, she might be mentally exhausted from all the loss and sadness. Her hope for the future could very well be gone from the traumatic experiences she has and will experience. (Also a quick little side note, this "ghost" idea could relate to the "Dead Lee" in the snow. Meaning the memories and sadness of Lee and everyone she knew will anchor her down).
Well guys, that's my very long theory. And I apologize in advance for any errors in spelling or formatting, this is my first post on this website, but this idea was stuck in my head with no place to vent it to. I hope you guys enjoyed it, and get some ideas from it. Music makes half the game ;P
Sign in
to comment in this discussion.