Mwahahaha...
The Borderlands Fanfics are here...
Similar to The Walking Dead fanfiction that frequent this forum, this is a fanfiction with choices, characters, and the added depth of Claptrap and a few other things such as loot. Yes, Claptrap is his own added depth. Don't question.
The story here is:
Around the same time the Vault Hunters were blown out of that train, a group of travelers just looking for a means to an end, or maybe not, were riding the train that was unfortunately blown up by Handsome Jack. Now, they are lost in the Southern Shelf, looking for help.
Looking for Sanctuary.
Put all your damn characters HERE:
https://docs.google.com/forms/d/1Mr-88_tqzV0abMRjVsV4nq3x__q4o6yvDuXmaTLB7CQ/viewform?usp=send_form
Characters Introduced: Jericho Steel, LL-X86, Blisterscope, Zane, Sophie, Anton, Smiler Duncan, Claptrap, The Shepard, Nixon Roosevelt, Bloodlust, Minerva, Sir Hammerlock, Gauss, Kyle, R4-B0T, Delsin, Daniel Lockston, Nikolai,
Characters Waiting To Be Introduced: NTN, Timmy the Bandit, True Blood, Ariana Grande, Fragger Face, Paul, Miley Cyrus, Miss Point Blank, Delsin Again, Claptrap Jr., DeathBringer, Absolute Shadow, barda, Vierge, YAYAY, Tewc, Therapy-Guy, Dub O' Maniac, Chrisz, Minus One, Warden, Neon, Sliver, Jupiter, Wraith, Half-Roger, Tao, Steven Longstride, WhatTheDuck, Tatyana Rostkova, James, Barry Dotter, LLX-69-40, Milo, Ser Bonk, Candy-Time, Dima, Latham Kirkwood, Drake Gerard, D00M, Daphne,
Six Feet Under: Bobby, Tao the Skag, Rick,
Unknown: Raven, Ghost, Mr. Pork, LaShonda, Loaderbot #457,
Why, you may be wondering, how did this piece of shit get so many views? Well, lot's of refreshing. Lot's of refreshing.
EPISODE 1: AND SO IT BEGINS...
FULL EPISODE HERE - https://docs.google.com/document/d/14-xVJ7I6eVXbbg-6UtP-X14_uOKRa9fy5jLvaUg4d-g/edit?usp=docslist_api
STATUS: ONGOING
EPISODE 2: LOOSE LIPS
STATUS: COMING SOON
EPISODE 3: LUNATIC FRINGE
STATUS: COMING SOON
EPISODE 4: THE GOOD, THE BAD, AND THE UGGO
STATUS: COMING SOON
EPISODE 5: SYMPATHY FOR THE DEVIL
STATUS: COMING SOON
EPISODE 6: TWICE SHY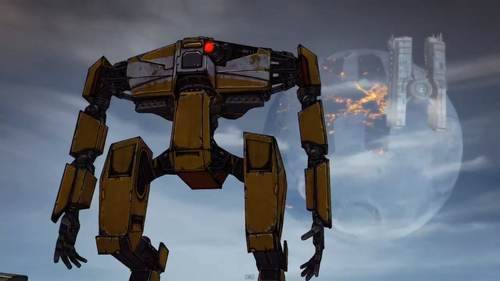 STATUS: COMING SOON
EPISODE 7: SANCTUARY
STATUS: COMING SOON
EPISODE 8: BLITZKRIEGED
STATUS: COMING SOON
EPISODE 9: LOCK AND LOAD
STATUS: COMING SOON
EPISODE 10: AND THEN THERE WERE FEWER...
STATUS: COMING SOON
Enjoy my writing style? Check out my other stories:
THE WALKING DEAD: HUMANE
http://www.telltalegames.com/community/discussion/87985/the-walking-dead-humane-reboot?new=1
PET SEMATARY: HORROR STORY THAT'S NOT A SLASHER
http://www.telltalegames.com/community/discussion/86445/pet-sematary-an-interactive-horror-event-submissions-open