Michonne Ep 1 Waiting Thread: PC/Mac/PS4/PS3/Xbox One/360 Feb 23, iOS/Android Feb 25
OzzyUK
Moderator
---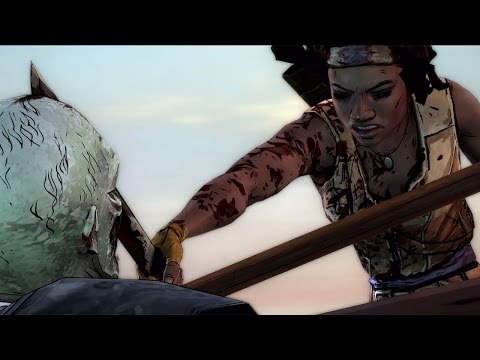 Discuss the early preview with the first six minutes of Episode 1 here - please keep spoilers out of this thread.
---
Release Dates
PC/Mac - February 23rd
Playstation Network (PS4/PS3) - February 23rd
Xbox Live (Xbox One/Xbox 360) - February 23rd
iOS - February 25th
Android - February 25th
---
News:
February 19th
February 18th
February 14th
February 13th
February 12th
February 11th
February 10th
February 9th
February 8th
February 3rd
February 1st:
January 26th
January 25th 2016
December 4th:
Post on official Walking Dead site: TELLTALE'S MICHONNE, HUGE UPDATE!

"February release date: We bumped this a TINY bit but this allows the game to get even bigger and better and for all three installments to hit on a tight schedule."
December 3rd
December 2nd
A YouTube trailer for The Game Awards 2015 mentions Michonne will be one of the games presented

[Fan asks: I've got 2 main questions. 1. Who voices Michonne? 2. When will it release?]
November 30th:
November 20th
November 18th
Tweet from Job: Major news on #GoT coming VERY soon. #TWD: Michonne Mini-Series info also coming. Our 2016 lineup is a lot like a TV schedule!
November 9th
October 26th:
Tweet from Job (response to fan asking about when we get Michonne news): news next month!
October 11th:
[Fan asks "so who will portray Michonne in the TWDG Mini Series"]
October 9th:
September 27th
Job Stauffer has Fan Q&A on Twitter for future Telltale news...

[Fan asks about Michonne after someone asked about Minecraft trailer]
[Fan asks about calling Michonne DLC]
Fan asks: Is the Michonne Min-series still releasing this fall?
Fan asks about Season 3/Michonne:
September 10th
July 9th - Skybound Comic Con Panel:
July 3rd
Older News Updates:
---
Pass some time and get to know the Telltale Community!
While you are waiting for the episode, why not pass some time by getting to know the Telltale Community?
---
Also, remember that the first rule of the Forum Guidelines is respect. This includes not just forum users and moderators, but Telltale staff as well. Please don't insult or antagonize anyone, including Telltale staff, for what they post, either on these forums, on the Telltale blog, on the Telltale Facebook page, on Twitter, or elsewhere. The Telltale Terms of Use prohibits behavior that harasses or advocates harassment of another person. We want these forums to be fun to visit for everyone, staff and gamers alike. Thanks.
Sign in
to comment in this discussion.