I'm starting to like AJ as a character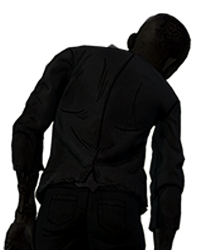 Alegra2018
Banned
At first I was sure I would hate him as weak and annoying little boy, I thought that Clementine would always have to take care of him and calm him when he cried (you know like any 5 years old), When he was a baby and a toddler, I never loved him ... I thought he would do a lot of trouble for Clementine, he was not cute to me either (and i didn't like his parents).
Clementine is a child herself (only 11-17 years old), it's so hard to care for a small and annoying child at her age. I didn't like it.
But AJ grow up and he's not like I was afraid he would be. I had to take that into account, AJ could never have been like 8 year old Clementine. she wasn't born into an apocalypse, she was sweetheart and became stronger as she went through more bad experiences ... AJ is different, he is an adult in the body of a little boy and he is smart, mature, and ready to protect Clementine at all times. It's hard to believe he's like 5 years old ... it's crazy, but i love that. He's a strong kid.
One more thing, I thought that Clementine would be the new Lee and AJ would be the new Clementine, I'm so glad it's not like that, we've got something else here! AJ is like mini Lee and he's like protector of Clem, he want to protect her, he's obsessive with that (maybe because trauma about her) and he does not like that Clementine taking care of him and protecting him, he wants to be independent and i like that. He's not helpless little boy.
To be honest I really started loving his character after the scene from episode two. I love "badass" character and he becomes to the most badass in the game (especially because he's born into the apocalypse) he develops an interesting, dark and unusual personality. I love deep character and AJ becomes to that.
I really like how he worried about Clementine, she is the only one he loves, the only one who makes him smile from the heart. he seemed so nervous and worried about her nightmares, about her suffering and decided to sleep with her to make her feel safe and it's really adorable. he does not show much emotion, he is tough, but you can see how he loves his mother figure very much. I'm just afraid he'll kill more people because he's trying to protect her and he can ever cause a person he loves to be in danger, Clementine.
That's my opinion, what do you think?
Sign in
to comment in this discussion.