I don't know if any of you remember, but a few months back I posted a rather tragic tale about how my dog jumped on a table to grab my newly purchased Sam and Max animated series dvd and shred it into tiny bits, leaving only the sticker and disc 1 unscathed. As much as I wanted to, I couldn't really afford another one for a while. I was very upset. Kinda looking forward to watching it, ya know? What got me worst though was that Steve Purcell has to be one of my favorite artists, and none of the beautiful cover art was left in tact after my dog got through with it.
However, my awesome awesome awesome of awesomest of friends, Jon, attended San Diego Comic Con. He's a really talented artist so it was basically a business trip for him getting his name out and networking.
Well, not long after SDCC was my birthday. Check out what he got for me!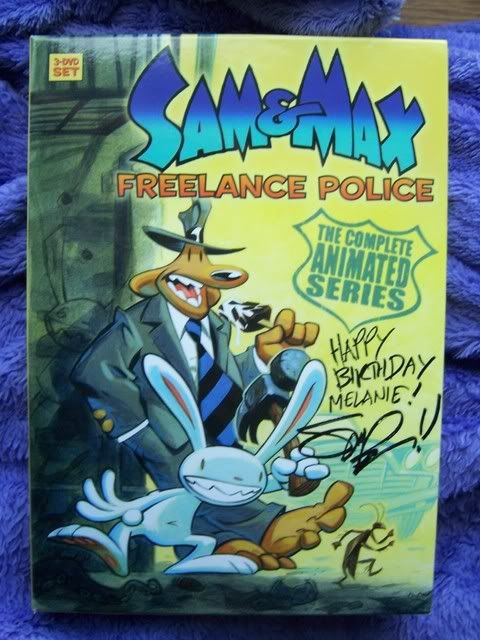 He went out of his way (skipping the Venture Bros panel even....what a guy!) to buy this and get it signed (and he got me some of those neat buttons too!). We watched it together the day he gave it to me. Jon, you rock. Oh and thank you, Mr. Purcell!
Best. Birthday. Ever.