Hey guys! I have some questions to you guys..because i'm really curious...
[SPOILER ALERT] Christa is going to kill herself? if you check the debut trailer and go to 0:43 you can see a "woman" commit a suicide..and she looks like christa (to me is her)
what do you think guys?
And the last thing (before your comment i don't think Carley is going to appear in the episode 5 or something, i'm sure she's dead (i love carley but..she's dead) but there are some pictures really curious, i don't see damage in her head, i see damage in her cheek..(that's what i see)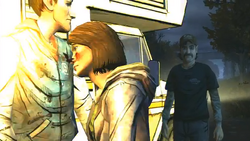 http://walkingdead.wikia.com/wiki/Carley?file=Ep3DeathCarley.png
i want your opnion guys, and i'm so sorry if my english is bad..