Let's Play... DREAMFALL (in support of the kickstarter)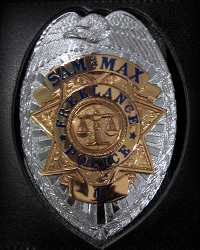 Vainamoinen
Moderator
This is a tale of old.
From 2006, to be precise; and it is retold in honor of
Davies' Flight of the Amazon Queen thread
. Also, it is supposed to
support the crowd funding efforts of a sequel
that would wrap the story up. The balance between pictures and text will vary, as I am known to ramble. I will neither shy away from showing and commenting on the beauty of the story and visuals, nor will I spare you the ugly details of Dreamfall's lackluster gameplay.
My comments are in italics and the story progression is told in normal font, which hopefully lets you take exactly what you want out of this Let's play variant.
I hope you will enjoy this, and just comment at will!

Chapter 0: TAINTED
There's no intro music, credits or whatever at the beginning. The story just starts.
A monastery. Whereabouts: Unknown, the year: never told.
Note the design of the feather, a patch of orange in bleak surroundings. Also, the character's faces are really well done.
It's
Brian Westhouse
. That gives Longest Journey veterans lots of clues about what is going on here. The last we saw of him was in the
Arcadian
city of Marcuria, as an old man, ready to die with rifle in hand battling the half beast invasors. We know that he's originally from the world of technology - our world,
Stark
- and has only ever traveled between the worlds once, as a young man, shortly before WWII. Are we about to witness this event?
Animated details like Brian's bow of obedience here are scarce. Note the application of the chiaroscuro principle in the contrast of bright whites on wall and bed and the framing shaded foreground, which includes the figure of the abbot. As bleak as this cell is - the designers have made the most of it.
One journey, one destiny, the abbot obviously thinks. From the perspective of The Longest Journey, Westhouse was never really that important. He was just there in Arcadia, a weird hermit to the indigenous population, ready to hand April Ryan whatever McGuffin or piece of information she needed for her own quest, ever not comprehending that he could actually be helpful to her. A fat, sloth- and somewhat lustful - yet still likable - drunkard.
Man, he's young. And he looks completely different from what I imagined him to look like in TLJ, where the eight and a half polygons of his did spell fat and old. Also, I played the German version of TLJ first, in which Brian is voiced by Joachim Kerzel, German dubbing voice of Jack Nicholson. So, yeah. I had expected Brian Westhouse to look like Jack... at least a bit. The German version of TLJ also showed protagonist April insecurely alternating between formally ("Sie") and personally ("du") addressing Brian - which I thought was a stroke of genius not reproducible in the English variant (yet possibly the Norwegian?!).
This first corridor is nothing more than a hose with two turns. Yeah well, Brian, of course you "can only choose one path", but you're NOT "at a crossroads". Indeed not. The hovering 'hotspot indicator' as seen here considerably breaks immersion, especially when the object in question is rather large, like the row of these prayer wheels. This stupid frame thingie would be even more unnerving if there were actually a lot of things to look at in a single room. Which will never happen in the game.
The cinematics love tracking shots; and I love those cinematics! Of course, the player gets an impression of such a wide and beautiful space only to experience afterwards that invisible walls, clunky controls and hotspot famine limit his exploration. Such precious little interactivity in the game, but the cutscenes have their worth without a doubt.
Using an especially weird control mechanism, the shamelessly console optimized "focus field" we shift our gaze to the figures at the far end of the room so we are able to eavesdrop on two excitedly whispering monks.
Obviously, Brian wasn't told the whole truth about his impending journey. For the first time, there is mention of the
undreaming
, a central concept in Ragnar Tørnquist's creation. The word "unleashed" isn't exactly blessed with positive connotations. Chaos and destruction follow in its wake. Are the monks up to no good? Westhouse chooses not to take notice for now. He wants to go, he wants to see a new world.
Does the Terminator time travel logic apply here or what? Does he have to step onto that plate naked? I've seen Westhouse's backpack in his cell just two minutes ago. Still here he is, without packed lunch or even shoes, ready for the great unknown. If this indeed is his one and only journey, where did he get the gun he so fondly spoke of when we last saw him in TLJ in the world of inexistent technology!?
Ah, why do I keep worrying about the Terminator time travel logic? This is obviously a "Doctor Who" Time Lord regeneration sequence we're seeing here. That of course answers all the questions I previously pondered.
Aaaaand they're showing off their sparkling, iridescent ice graphics. Good choice though, because I considered it impressive back then, and still do today.
All right, we've got ice and snow. And Brian Westhouse shows zero remorse about leaving his shoes back in the monastery. He hardly even notices. All right, he's got other problems, I'll give him that.
This... this is not Arcadia, this is somewhere else! Had Brian expected to land here, have the monks sent him in a false direction on purpose? The mysterious figure on the hill by the campfire isn't welcoming Brian. The undreaming, he insists, would follow him here. Before Brian even knows what's going on...
...a slowly moving, yet utterly threatening tentacly-flowery creature appears in the sky. It grabs Brian Westhouse, and it becomes clear that there's no way for him to escape. Thus the prologue endeth; and we're left wondering if this occurrence contradicts the proceedings in The Longest Journey. The old Brian never mentioned this. Has he "forgotten"? Swallowed the experience with too much booze? Is the undreaming now "unleashed" just because it captured Brian Westhouse? If so, why hasn't this powerful beast already affected the proceedings in the prequel?
It's Ragnar's story. It's not the greatest spoiler when I tell you that for every question answered, two new ones will take its place; and the cliffhanger situation at the end of the game will leave you with a lot to still think about.
Until next time,
Vainamoinen
Sign in
to comment in this discussion.