A House Divided: Trailer Analysis (S2E2)/A House Divided General Discussion (WARNING: SPOILERS)
For references, I will be analysing the following videos: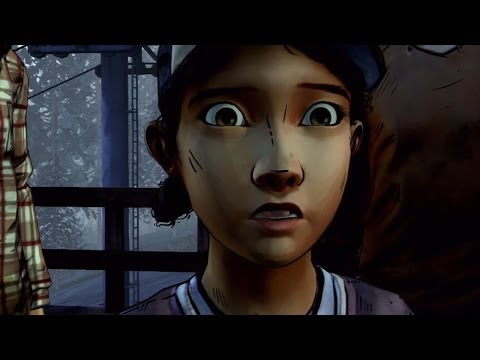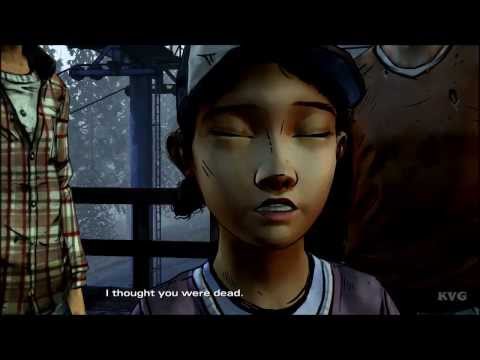 Pete
Pete and Clem appear in a room. Clem asks Pete what he is going to do, and Pete eyes a saw on a pallet nearby. It is strongly implied that Pete is going to have to saw his infected leg off. I suspect that Clem is going to have to help saw his leg off (much like Lee cut off David's leg last season at the start of episode 2). However, I think that he will not survive the amputation and Clem will have to fight a zombified Pete soon after the amputation. Alternatively, if Telltale decides to keep him a bit longer, I think on the way back to the cabin, Pete and Clem will come across Nick, who is now a walker and is entangled in something, like Lee's brother in episode 1.
Nick
I think this will become a Shawn/Duck situation, where saving Nick will keep him alive but saving Pete will kill him anyway. I sincerely hope not, but in the trailer, there seems to be no method of Nick getting killed unlike Pete. Nick develops an alcohol addiction after losing his uncle (He's drinking the same bottle that was used in S1 E4 and E5). There is nothing to suggest Nick dies there, but if he does, I suspect that Nick has too much alcohol and passes away, possibly from alcohol poisoning.
Someone Outside
Sarah and Clem sees someone outside, and Clem goes and opens the door. This man looks quite similar, if not the same person, as the man with the binoculars appearing in the season 2 slide. I keep seeing people thinking it's Carver, but I doubt he would go by himself, to a group that does not like him. It was confirmed by Carlos in the trailer that this man was with the group before. I'm going on a limb here, but I think that the man is the father of Rebecca's baby, but the group don't know about it (Rebecca telling Clem to 'Shut her mouth') and he was kicked out for some other reason, and joined Carver's group.
Missing in Action?
On a side note, I noticed that when they were discussing about the man they were with before, Pete and Nick are missing. Could this indicate their fate, or is Trolltale at it again?
To The Mountains
The group are seen trekking to mountains, Luke saying that they are 4 or 5 days away. Rebecca tells Alvin that she can't keep going. I suspect that Rebecca is very close to giving birth, though, as indicated by the episode 3 slide, it will not happen yet. I think the man that visited them threatened them, and the group took the threat seriously. Sarah and Clem are seen walking together (recognized by their shoes), indicating whatever the man said scared the hell out of them and they are more than likely relocating. I think after discussing the man, they discussed what they were going to do, one of them came up with the idea of moving, and Clem suggested Wellington, maybe with the hope she would find Christa there.
The Opposing Group
The Cabin group make it up the mountain, and run across another group, rocking hoodies and weird hair. I think the Cabin group accidentally do something suspicious that makes them seem like bandits, but there is not enough information to analyse. However it is interesting to note that there is a ski lift behind the group.
I thought you were dead
There are quite a few candidates for this, so I'm going through most of them:
Michelle (Bandit who shot Omid)
I don't think it is her, she seems like such a minor character (Other than shooting Omid, of course), but it is still plausible. I don't really see the point, if any, of bringing her back though.
Omid
As much as I would like him to return, I don't think it's him. As the bullet didn't have an exit wound, and it likely hit one of his organs, without clean tools, professional doctors, etc, there is no way he survived. Also, why would Christa not shoot Omid to prevent him coming back as a walker?
Christa
I don't think it's her. It just feels like her fate should be left ambiguous for a bit longer, like Clem's parent's fates in S1. To me, it just ruins it if it is Christa, and I don't think Telltale would go down that path just yet.
Molly
Clem has no real reason to think she's dead (unless you shoot her accidentally), but it has been at least 16 months so Clem could think that she is dead because of the herd in Savannah and the fact that is has been so long.
Vernon
Vernon was confirmed dead in 400 Days when Joyce said "And then we lost Vernon with that goddamn boat!". However, maybe by lost, she meant that Vernon went insane or something of the sort. However, I think by lost, Joyce meant dead, and I don't think Telltale are going to bring Vernon back.
One of the St Johns
I feel this is HIGHLY unlikely, as their fate depends on what you do is S1, making them a determinant character. What about the people who killed both of them?
Victor (The man who you can decide to give water to or not)
I also don't think Victor will reappear in this episode, either. I do feel he will return, but I think he will return in episode 3 or 4, and whether or not you gave him water will decide something in the story. It is plausible, as Victor was near death last time we saw him, and the river was overrun by walkers, but there is a silhouette in the episode 4 that looks strikingly similar to him (I know it also looks like Vince but we also claimed that Kenny was returning in S2E1.)
Lilly
One of the raging discussions has been 'Who is this mystery character?'. Lilly left the group in episode 3, after shooting Carley/Doug. You can either choose to leave her on the road, or keep her in the RV, which she later steals. I think it is very, VERY plausible that Lilly is this mystery character. She never died on-screen. You either left her on the road with the clothes on her back or she stole the RV with gas for no more than 30 miles. Imagine: Lilly is a hardened survivor, much more than season 1, after Larry's death. She leads a group of bandits so they can survive by themselves. Also, it would be interesting, because Lilly might want to know what happened to the rest of the group (Kenny, Duck, Katjaa, Lee, Ben) depending on your relationship with her as Lee.
Kenny

Arguably the most popular character to return, as much as I want it to be Lilly, I think it will be Kenny. Telltale have confirmed that Kenny's fate will be explored. Now that they are in North Carolina, it is highly unlikely and unrealistic that Kenny will return as a walker (unless we return to Savannah which has a slim-to-none chance of happening). Furthermore, files have been found that allegedly mention the words 'Kenny' and 'A House Divided'. This should not be taken as a confirmation, but prove this point further. Considering how he was when we last saw him, we are going to need some serious explaining on how he survived (maybe a flashback?)

What I'd like Telltale to do, but is VERY unlikely, is to make the character Lilly or Kenny, depending on who you sided with more in S1. If Telltale wanted a nicer character to be introduced, they could make it the person that you sided with more appears. Eg Side with Lilly most of the game, a wild Lilly appears. If TellTale wants to go down this route, but make the character more antagonistic, they could make it that the person who appears is the person you didn't side with, and would be cold towards Clem for what Lee did to them.

The Screenshots
I'm referring to these three screenshots:




First of all, where are the other cabin survivors? I highly doubt they would kill off Rebecca, Alvin, Nick/Pete, Carlos and Sarah this early, so where are they? Why are only Luke and Clem out there? Second of all, in the picture where Clem is fighting a walker, where is Luke? Isn't he supposed to be protecting her? Lastly, why is Luke trying to stop Clem from attacking the walker? Does he know the walker? Does he not want to blow their cover?

Questions for S2E2:
Who is the man who was with the group before?
Was the man who was with the group before Carver?
What happened to Nick/Pete?
Who is this mystery (wo)man?
Why are they travelling to the mountains?
What is the other group doing there?
Why did Clementine open the door?
Questions for the rest of the season:
Where do the main 400 Days characters come into play?
What happened to Christa?
What was the point of giving that man water (or not)?
Is Carver someone we know?
What happened to the rest of Shel's group? (We already know what happened to Roman, but what about the others?)
What is the point of stealing the watch?
What will come of being/not being Sarah's friend?
Sign in
to comment in this discussion.